Mikwo Flite Tube 28mm
pwodwi Detay
aplikasyon
FAQ
pwodwi baj
1. Pwodwi parameters (Specification) nan tib la espre mikwo
Mikwo tib espre

Dyamèt

25mm

28mm

32mm

40mm

50mm

63mm

lajè

N40mm

N45mm

N50mm

N63mm

N80mm

N100

Flite reyon

1.5-2.0m

1.5-2.0m

1.5-2.5m

2.0-3.5m

3.5-4.5m

5.0-6.0m

Flite lajè

3-4m

3-4m

3-5m

4-7m

7-9m

10-12m

10m Flow rate

0.8 m³/h

1.1 m³/h

1.3 m³/h

1.6 m³/h

2.2 m³/h

2.8 m³/h

Pesè

0.2mm (200 micron), 0.3mm (300 micron), 0.4mm (400 micron), 0.9mm (900 micron)

twou espas

10cm, 20cm, 30cm, 40cm

twou kantite

3, 5, 7, 9

Hole size

0.6mm, 0.7mm, 0.8mm, 1.0mm

K ap travay presyon

0.8-1.5 kg / cm² (0.8-1.5 bar)

wotè Flite

1.5m - 2m

Laying length

≤70m

longè woule

100m, 150m, 200m

Kantite pou chak acre

800-1000m / acre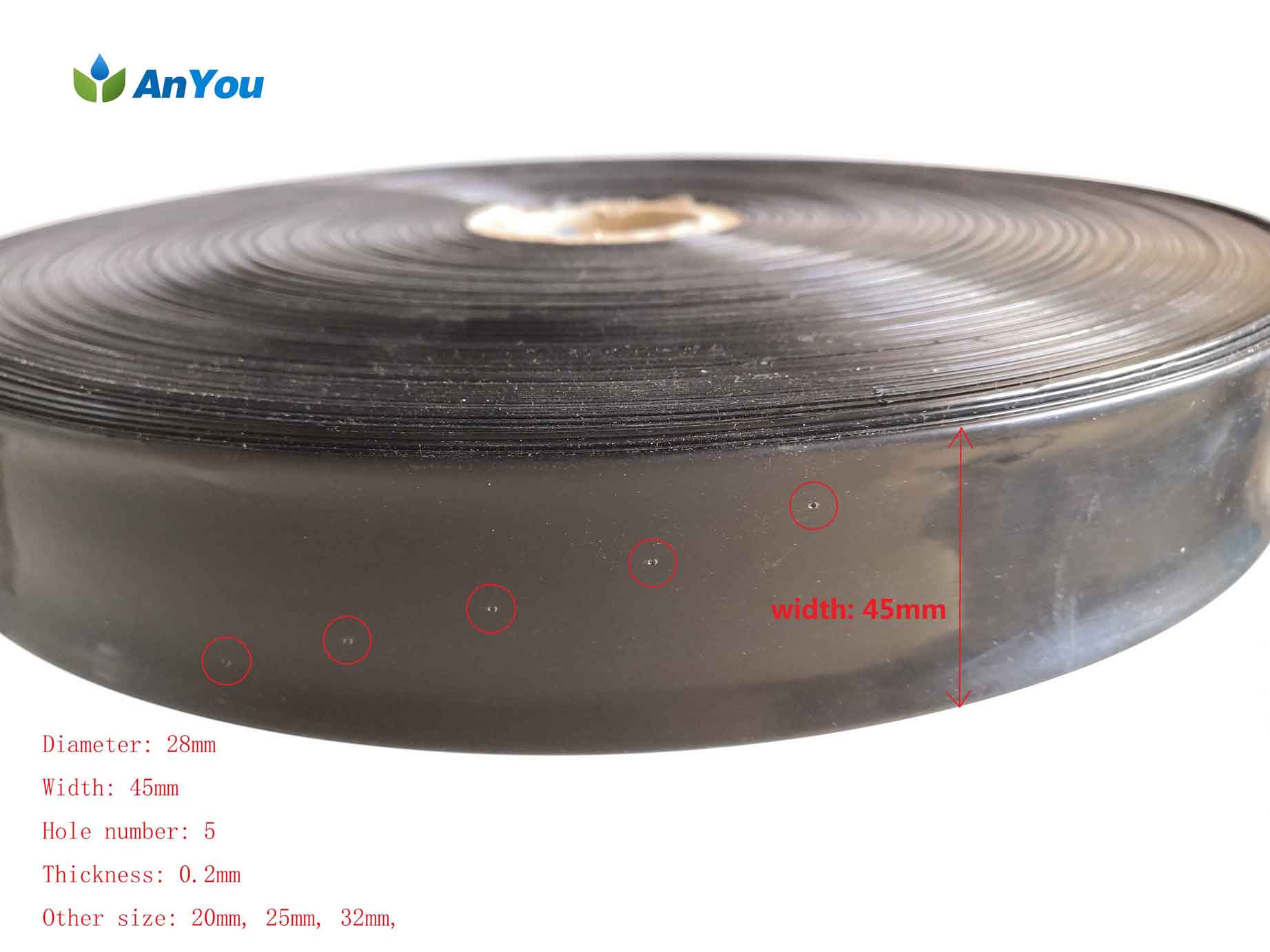 2. Pwodwi Karakteristik nan tib la espre mikwo
(1) Mande pou presyon ki ba, epi sove dlo.
(2) Li espre gout amann nan dlo respire, ki ede yo amelyore to a jèminasyon grenn ak pousantaj la siviv nan plantules.
(3) Apre angrè, espre kawotchou irigasyon ede yo piti piti mouye angrè nan tèt abiye, ak efikasite pèmèt angrè a yo anba nan tè a, epi rive nan plant rasin, san yo pa lave angrè a soti.
(4) Li ede yo kenbe flou a nan tè.
(5) Li se ekipman an pi apwopriye pou irigasyon nan tè Sandy ak sou paysages unleveled.
(6) Easy to install, save labor costs, economical compared to sprinklers.

(7) Rezistan a radyasyon UV.
(8) Laser drilling technology, stable quality. Laser punch make uniform holes, spray fine drops of water evenly.
---
Previous:
Mikwo Flite Tube 32mm
---
Aplikasyon nan tib la espre mikwo
For closely spaced crops, onion, vegetable crops, groundnut, leafy vegetables, cabbage, plantain, cocoa, palm tree nursery, dragon fruit, tomato, lawn, etc.

How to install the spray tube?
Premyèman, metòd la enstalasyon:
1. Prepare the pipe fittings according to the line spacing, and measure the mainline.
2. Install the mainline with one end connected to the pipe (the pipe is connected to the water source and the water pump), the other end is connected to the fitting, and the spray tube is connected behind the fitting.
3. If there is mud or soil in the hole, untie the end of the spray tube, flush with water or simply wipe it.
4. The spray tube can also cover the film, which has a good effect on maintaining the temperature and water evaporation of the planting crop.
5. End cap: One method is to make a knot at the tail; another method is to cut a small piece of spray tube with a width of about 1-2 cm. The end of the spray tube is rolled three times, and then put the end of spray tube into the small piece of tube.
Videyo nan ki jan fè yon bouchon fen pou tib espre
(1) Ki sa ki nan materyèl prensipal la nan tib espre mikwo?
A: PE
(2) Èske tib la espre mikwo rezistan a radyasyon UV?
R: Wi. kò segondè plastik bon jan kalite supports radyasyon UV
(3) Maksimòm tap mete longè pou fèm lan?
A: Spray tube can be laid up to 70 meters ( according to different size). Pressure must be ensured to be 0.8-1.5 kg / cm².
(4) Konbyen mèt pou fèm 1 acre?
A: 800-1000m
(5) Èske ou ka bay C / O sètifika ki gen orijin?
R: Wi. C / O, Facture, lis D ', Original B / L
(6) Èske ou faktori awozwa oswa komès?
R: Nou se faktori. Byenveni nan konpayi nou an Baoding Anyou Industry co, Ltd nan Baoding nan Lachin.
Ekri mesaj ou a isit la epi voye li nan nou