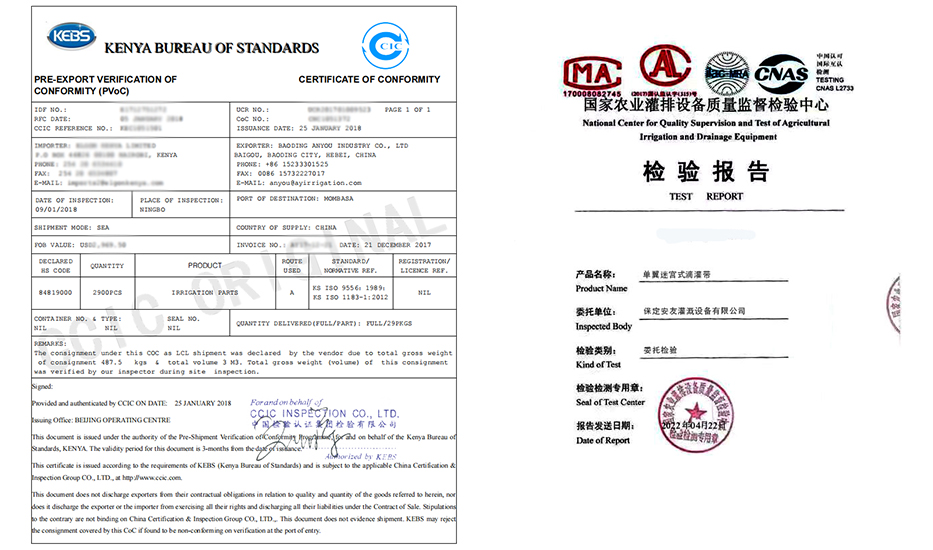 In today's global market, quality assurance and certification are critical factors for the success of a company's products. It is essential to ensure that products meet the necessary standards and are safe for consumers to use. With this in mind, our company has taken great strides to obtain both national and international certification and testing for our products.
Our irrigation products have undergone rigorous testing and certification by recognized authorities in the industry. We have obtained certifications from national and international bodies, including ISO, CE, CCC and PVoC, among others. These certifications demonstrate our commitment to quality, safety, and excellence in our products.
Our quality assurance team ensures that our products are manufactured to the highest standards and that they meet all regulatory requirements. We use state-of-the-art equipment and advanced production techniques to ensure that our products are of the highest quality and that they meet the needs of our customers.
We take great pride in our products and are committed to providing our customers with the best possible experience. Our products are designed to meet the needs of our customers, and we work closely with them to ensure that they are satisfied with our products.
In summary, our company's commitment to quality and excellence is reflected in the certifications and testing that our products have undergone. We are dedicated to providing our customers with the highest quality products and ensuring that they are safe for use. With our products, customers can be assured that they are getting the best quality and value for their money.
---
Post time: 29-05-2023