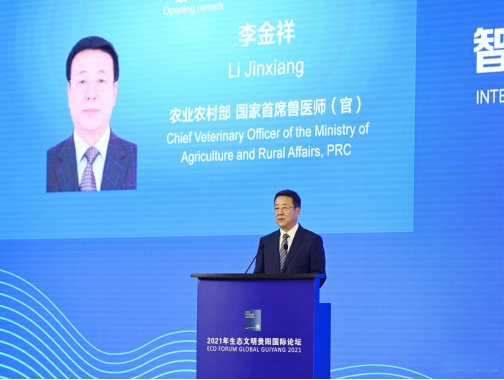 On July 13, the Agriculture Theme Forum of the Guiyang International Forum on Ecological Civilization 2021, with the theme of "Wisdom Helps Agricultural Innovation, Green Leans the Industrial Future", was held in Guizhou. Ministry of Agriculture and Rural Affairs Chief Veterinary Officer Li Jinxiang attended and delivered a speech.
Li Jinxiang said that in recent years, China has accumulated rich experience and practices in promoting the development of ecological agriculture and rural construction. He stressed the need to unswervingly implement the new development concept, follow the top-level design, focus on innovation-driven development, respect farmers as the main body, adhere to open cooperation, and further promote the development of ecological agriculture in China.
Li Jinxiang proposed to strengthen multilateral and bilateral policy exchanges and promote the formulation of international standards for ecological agriculture. Strengthen cooperation in green and innovative technologies and promote scientific and technological progress in ecological agriculture; We will expand international cooperation in ecological agriculture to add green and ecological undertone to the development of modern agriculture.
During the forum, Jin-xiang li and Guizhou province vice provincial governor sheng-hua wu jointly issued the United Nations food and agriculture organization of the Chinese publishing projects, international cooperation and rural agriculture revitalization of the series, the development of Chinese agricultural trade report 2021 and 2020, China's agricultural products trade atlas (GIAHS) power of poverty globally important agricultural cultural heritage the farmers' income and a crucial report, Guizhou rocky desertification comprehensive treatment Six major agricultural green development achievements, including the seven projects of the Global Environment Facility (GEF).
---
Post time: 17-07-2021