Spray Micro Tube 28mm
Detail Product
Aplikacion
FAQ
Produkt Tags
1. Produkti Parametri (Specifikimi) i tubit mikro llak
tub Micro llak

diametër

25mm

28mm

32mm

40mm

50mm

63mm

gjerësi

N40mm

N45mm

N50mm

N63mm

N80mm

N100

Spray rrezja

1.5-2.0m

1.5-2.0m

1.5-2.5m

2.0-3.5m

3.5-4.5m

5.0-6.0m

Spray width

3-4m

3-4m

3-5m

4-7m

7-9m

10-12m

10m Flow rate

0.8 m³/h

1.1 m³/h

1.3 m³/h

1.6 m³/h

2.2 m³/h

2.8 m³/h

Trashësia

0.2mm (200 micron), 0.3mm (300 micron), 0.4mm (400 micron), 0.9mm (900 micron)

Hole ndarje

10cm, 20cm, 30cm, 40cm

sasia Hole

3, 5, 7, 9

Hole size

0.6mm, 0.7mm, 0.8mm, 1.0mm

presioni i punës

0.8-1.5 kg / cm ² (0,8-1,5 bar)

Spray lartësi

1.5 - 2 m

Laying length

≤70m

Gjatësia roll

100m, 150m, 200m

Sasia për acre

800-1000m / acre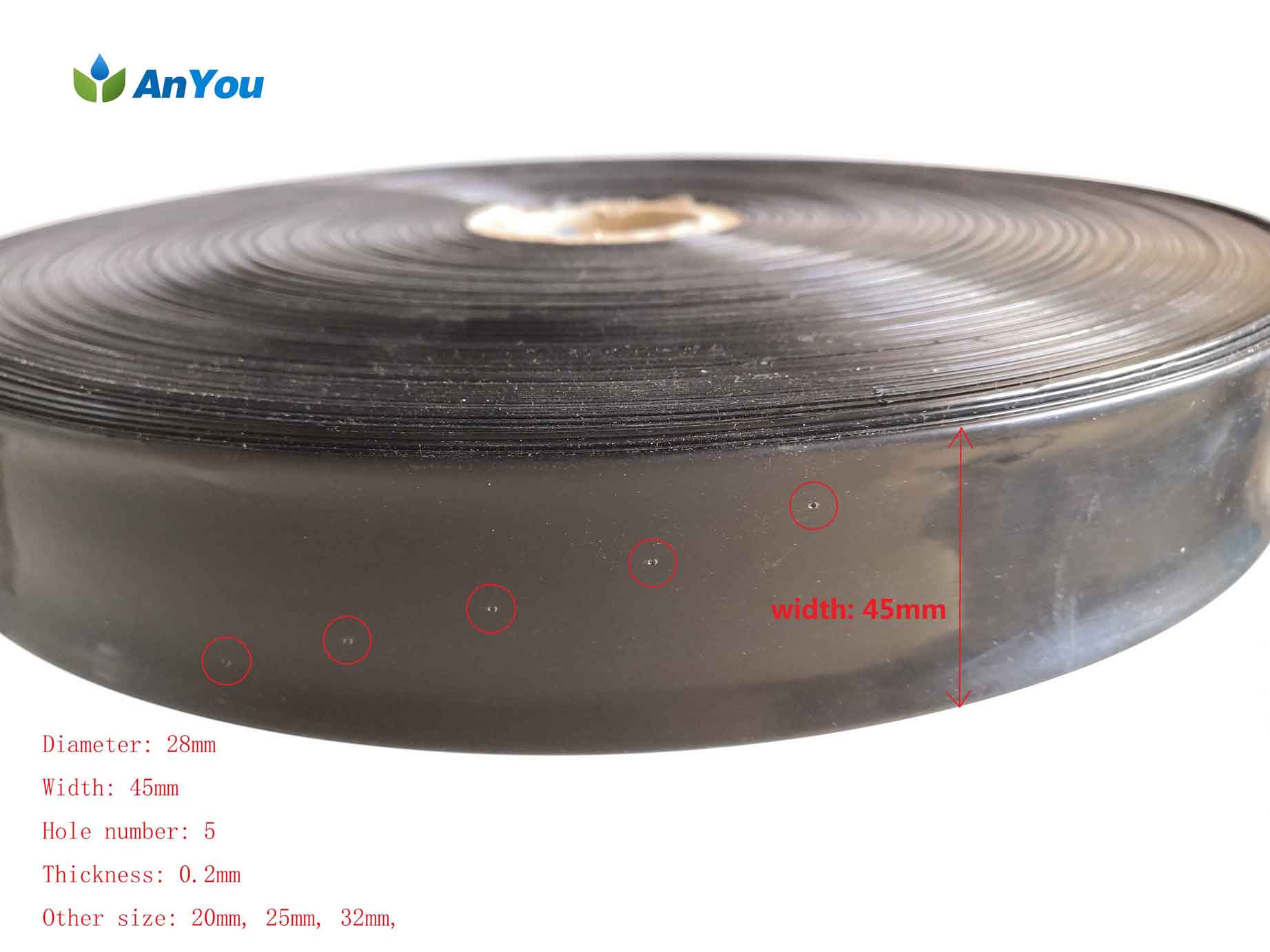 2. Product Feature i tubit mikro llak
(1) Kërkon presion të ulët dhe për të shpëtuar ujë.
(2) Kjo llak pika të bukura të ujit në mënyrë të barabartë, i cili ndihmon për të përmirësuar shkallën e mbirjes së farërave dhe shkalla e mbijetesës së fidanëve.
(3) Pas pleh, ujitjes hose spray ndihmon për të lagur gradualisht të lartë veshur pleh, dhe në mënyrë efektive të lejojë pleh të depërtojnë në tokë dhe për të arritur bimëve rrënjët, pa i larë pleh jashtë.
(4) Kjo ndihmon për të ruajtur liri të tokës.
(5) Kjo është pajisje më e përshtatshme për ujitjen e tokës rërë dhe në peisazhet unleveled.
(6) Easy to install, save labor costs, economical compared to sprinklers.

(7) rezistent ndaj rrezatimit UV.
(8) Laser drilling technology, stable quality. Laser punch make uniform holes, spray fine drops of water evenly.
---
Previous:
Spray Micro Tube 32mm
---
Aplikimi i tub mikro llak
For closely spaced crops, onion, vegetable crops, groundnut, leafy vegetables, cabbage, plantain, cocoa, palm tree nursery, dragon fruit, tomato, lawn, etc.

How to install the spray tube?
pari, metoda instalimit:
1. Prepare the pipe fittings according to the line spacing, and measure the mainline.
2. Install the mainline with one end connected to the pipe (the pipe is connected to the water source and the water pump), the other end is connected to the fitting, and the spray tube is connected behind the fitting.
3. If there is mud or soil in the hole, untie the end of the spray tube, flush with water or simply wipe it.
4. The spray tube can also cover the film, which has a good effect on maintaining the temperature and water evaporation of the planting crop.
5. End cap: One method is to make a knot at the tail; another method is to cut a small piece of spray tube with a width of about 1-2 cm. The end of the spray tube is rolled three times, and then put the end of spray tube into the small piece of tube.
Video se si të bëjnë një kapak fund për tub llak
(1) Cili është materiali kryesor i tub mikro llak?
A: PE
(2) A është tub mikro llak rezistente ndaj rrezatimit UV?
A: Po. Trupi me cilësi të lartë plastike të reziston rrezatimit UV
(3) maksimale hedhjen gjatësinë për fermë?
A: Spray tube can be laid up to 70 meters ( according to different size). Pressure must be ensured to be 0.8-1.5 kg / cm².
(4) Sa metra për fermë 1 acre?
A: 800-1000m
(5) A mund të sigurojë c / o certifikatën e origjinës?
A: Po. C / O, Fatura, lista Paketimi, Original B / L
(6) A jeni Fabrika spërkatës apo tregtimit?
A: Ne jemi fabrikë. Mirë se vini në kompaninë tonë Baoding Anyou Industry Co, Ltd, në Baoding Kinë.
Shkruani mesazhin tuaj ketu dhe ta dërgojnë atë tek ne