Micro Spray Tube 28mm
Bidhaa Detail
maombi
Maswali
Tags bidhaa
1. Bidhaa Kigezo (Vipimo) ya micro dawa tube
Micro dawa tube

kipenyo

25mm

28mm

32mm

40mm

50mm

mm 63

upana

N40mm

N45mm

N50mm

N63mm

N80mm

N100

Spray radius

1.5-2.0m

1.5-2.0m

1.5-2.5m

2.0-3.5m

3.5-4.5m

5.0-6.0m

Spray upana

3-4m

3-4m

3-5m

4-7m

7-9m

10-12m

10m Flow rate

0.8 m³/h

1.1 m³/h

1.3 m³/h

1.6 m³/h

2.2 m³/h

2.8 m³/h

unene

0.2mm (200 micron), 0.3mm (300 micron), 0.4mm (400 micron), 0.9mm (900 micron)

Hole nafasi

10cm, 20cm, 30cm, 40cm

Hole wingi

3, 5, 7, 9

Hole size

0.6mm, 0.7mm, 0.8mm, 1.0mm

Kazi shinikizo

0.8-1.5 kg / cm² (0.8-1.5 bar)

Spray urefu

1.5m - 2m

Laying length

≤70m

roll urefu

100m, 150m, 200m

Kiasi kwa ekari

800-1000m / ekari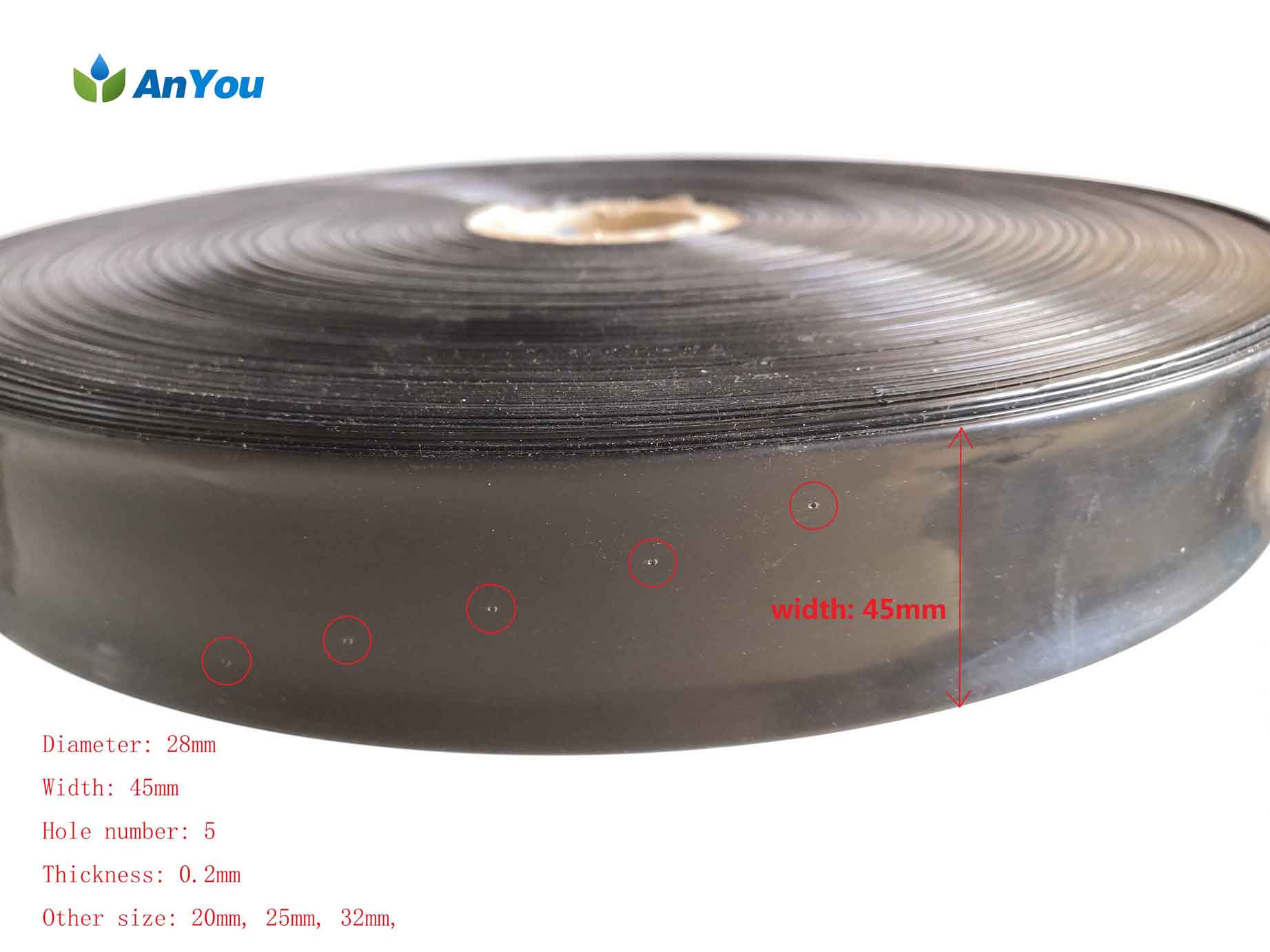 2. Bidhaa Kipengele cha micro dawa tube
(1) Inahitaji shinikizo na kuokoa maji.
(2) Ni dawa matone faini ya maji sawasawa, ambayo husaidia kuboresha kiwango cha ukuaji wa mbegu na kiwango cha maisha ya miche.
(3) Baada ya mbolea, umwagiliaji dawa hose husaidia hatua kwa hatua mvua juu wamevaa mbolea, na kwa ufanisi kuruhusu mbolea kupenya ndani ya ardhi na kufikia mimea mizizi, bila kuosha mbolea nje.
(4) Inasaidia kudumisha looseness ya udongo.
(5) Ni vya kufaa zaidi kwa kilimo cha umwagiliaji wa udongo mchanga na juu ya mandhari unleveled.
(6) Easy to install, save labor costs, economical compared to sprinklers.

(7) Sugu na mionzi UV.
(8) Laser drilling technology, stable quality. Laser punch make uniform holes, spray fine drops of water evenly.
---
Awali:
Micro Spray Tube 32mm
---
Maombi ya micro dawa tube
For closely spaced crops, onion, vegetable crops, groundnut, leafy vegetables, cabbage, plantain, cocoa, palm tree nursery, dragon fruit, tomato, lawn, etc.

How to install the spray tube?
Kwanza, njia ya ufungaji:
1. Prepare the pipe fittings according to the line spacing, and measure the mainline.
2. Install the mainline with one end connected to the pipe (the pipe is connected to the water source and the water pump), the other end is connected to the fitting, and the spray tube is connected behind the fitting.
3. If there is mud or soil in the hole, untie the end of the spray tube, flush with water or simply wipe it.
4. The spray tube can also cover the film, which has a good effect on maintaining the temperature and water evaporation of the planting crop.
5. End cap: One method is to make a knot at the tail; another method is to cut a small piece of spray tube with a width of about 1-2 cm. The end of the spray tube is rolled three times, and then put the end of spray tube into the small piece of tube.
Video ya jinsi ya kufanya mwisho cap kwa dawa tube
(1) Nini nyenzo kuu ya dawa tube ndogo?
: PE
(2) Je, micro dawa tube sugu kwa mionzi UV?
: Ndiyo. Ubora plastiki mwili kuhimili UV mionzi
(3) Kiwango cha juu kuweka urefu kwa mashamba?
A: Spray tube can be laid up to 70 meters ( according to different size). Pressure must be ensured to be 0.8-1.5 kg / cm².
(4) wangapi mita kwa 1 shamba la ekari?
: 800-1000m
(5) Je, unaweza kutoa C / O hati ya asili?
: Ndiyo. C / O, ankara, Ufungashaji orodha, Nakala B / L
(6) Je, wewe sprinkler kiwanda au biashara?
: Sisi ni kiwanda. Karibu katika kampuni yetu Baoding Anyou Viwanda Co, Ltd katika Baoding China.
Andika ujumbe wako hapa na kutuma kwa sisi