Micro Spray Tube 28mm
Product Detail
Application
FAQ
Product Tags
1. Product Specificationof the spray tube
Micro spray tube

Diameter

25mm

28mm

32mm

40mm

50mm

63mm

Width

N40mm

N45mm

N50mm

N63mm

N80mm

N100

Spray radius

1.5-2.0m

1.5-2.0m

1.5-2.5m

2.0-3.5m

3.5-4.5m

5.0-6.0m

Spray width

3-4m

3-4m

3-5m

4-7m

7-9m

10-12m

10m Flow rate

0.8 m³/h

1.1 m³/h

1.3 m³/h

1.6 m³/h

2.2 m³/h

2.8 m³/h

Thickness

0.2mm (200 micron) to 0.7mm (700 micron)

Hole spacing

10cm, 20cm, 30cm, 40cm

Hole quantity

3, 5, 7, 9

Hole size

0.6mm, 0.7mm, 0.8mm, 1.0mm

Working pressure

0.8-1.5 kg / cm² (0.8-1.5 bar)

Spray height

1.5m – 2m

Laying length

≤70m

Roll length

100m, 150m, 200m

Quantity per acre

800-1000m/acre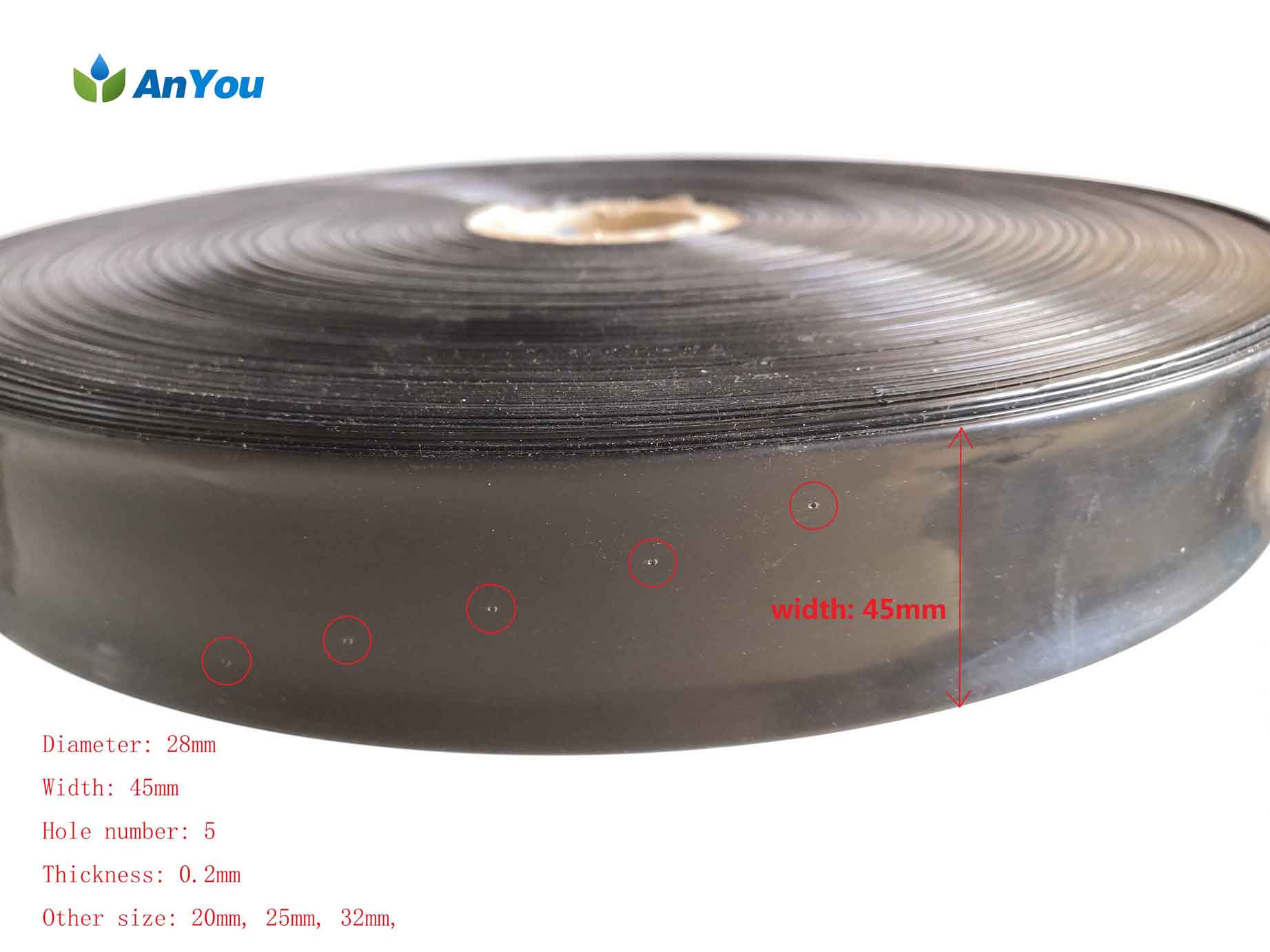 2. Product Feature of the micro spray tube
(1) Requires low pressure and save water.
(2) It spray fine drops of water evenly, which helps to improve the germination rate of seeds and the survival rate of seedling.
(3) After fertilizer, spray hose irrigation helps to gradually wet the top dressed fertilizer, and effectively allow the fertilizer to penetrate into the ground and reach plants roots, without washing the fertilizer out.
(4) It helps to maintain the looseness of soil.
(5) It is the most suitable equipment for irrigation of sandy soil and on unleveled landscapes.
(6) Easy to install, save labor costs, economical compared to sprinklers.

(7) Resistant to UV radiation.
(8) Laser drilling technology, stable quality. Laser punch make uniform holes, spray fine drops of water evenly.
---
Previous:
Micro Spray Tube 32mm
---
Application of the micro spray tube
For closely spaced crops, onion, vegetable crops, groundnut, leafy vegetables, cabbage, plantain, cocoa, palm tree nursery, dragon fruit, tomato, lawn, etc.

How to install the spray tube?
First, the installation method:
1. Prepare the pipe fittings according to the line spacing, and measure the mainline.
2. Install the mainline with one end connected to the pipe (the pipe is connected to the water source and the water pump), the other end is connected to the fitting, and the spray tube is connected behind the fitting.
3. If there is mud or soil in the hole, untie the end of the spray tube, flush with water or simply wipe it.
4. The spray tube can also cover the film, which has a good effect on maintaining the temperature and water evaporation of the planting crop.
5. End cap: One method is to make a knot at the tail; another method is to cut a small piece of spray tube with a width of about 1-2 cm. The end of the spray tube is rolled three times, and then put the end of spray tube into the small piece of tube.
Video of how to make a end cap for spray tube
(1) What's the main material of micro spray tube?
A: PE
(2) Is the micro spray tube resistant to UV radiation?
A: Yes. High quality plastic body withstands UV radiation
(3) Maximum laying length for the farm?
A: Spray tube can be laid up to 70 meters ( according to different size). Pressure must be ensured to be 0.8-1.5 kg / cm².
(4) How many meters for 1 acre farm?
A: 800-1000m
(5) Can you provide C/O certificate of origin?
A: Yes. C/O, Invoice, Packing list, Original B/L
(6) Are you sprinkler factory or trading?
A: We are factory. Welcome to our company Baoding Anyou Industry Co.,Ltd in Baoding China.
Write your message here and send it to us